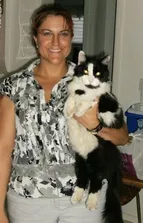 Dr. Laina Knorr graduated from the Western College of Veterinary Medicine in 2009. She completed a BSc at the University of Lethbridge in Biochemistry, followed by an MSc at the University of Calgary in Biochemistry and Molecular Biology. Dr. Laina then worked in Molecular Diagnostics for a few years before heading to vet school. Dr. Laina has cats whom she loves dearly and finds in them a great source of companionship and entertainment. She loves to travel and experience different cultures. She enjoys time spent with her daughter, family and friends. Dr. Laina enjoys all aspects of veterinary medicine, with a special interest in feline medicine and surgery.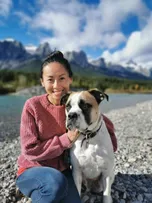 Dr. Maddy Kuan graduated from the Ontario Veterinary College in 2015. She spent the first four years in mixed animal practice in England and Southwestern Ontario, before sharpening her surgical skills at high volume spay and neuter clinics, where she has found her passion. She joined our team after moving to Calgary with her husband, Thor, and her American bulldog, Esme, in 2020. She enjoys combining travelling with her favourite pastimes, like hiking, snowboarding, and motorsports.

Scott our registered veterinary technologist. Scott graduated from Olds College in 2011. Scott has dabbled in many varying job titles and areas of interest within the veterinary field, including volunteering at a wildlife rehab center, working part time at an emergency hospital in Australia, instructing the VTA program offered through Olds College, and starting his own locum business. Scott was a locum for us since we opened, then became our full time tech. Scott enjoys hanging with his dogs and cats and is also into aquariums, aquascaping, and fishkeeping.
Amanda is our longest standing assistant. Amanda graduated from the VOA program in 2014 and joined our team at that time. Amanda also works as a dance instructor, favoring hip hop, and dances with the group Illfx. She enjoys spending time with her cats, Mozart and Helen, and with her family and friends.

Janice joined our team in 2019 as a full time assistant. Janice is the world's very own real life Wonderwoman. She is a jack of all trades for us, doing everything from cleaning, to maintenance, to cat sitting, and the list goes on and on. Janice tracks and finds lost, abandoned, stray and feral animals. She will spend all night watching a trap in hopes of saving another life. Janice works with many of the local rescue societies, fostering and caring for so many animals in need.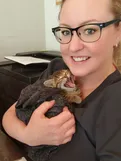 Briana is one of our assistants. Briana has been in the industry for many years and loves all the littles. She loves to hug and squeeze and talk sweetly to comfort all of the animals that come into her path. Briana has 3 little dogs and 3 crazy cats of her own, who she loves snuggling up with.
Morgan is one of our assistants. She graduated from Angelo State University with a Bachelor's in Animal Sciences. She spent five years doing what she loves as a veterinary assistant in Chicago, Illinois, while also flying the friendly skies as a flight attendant. She moved to Calgary in 2016 and spent a few years in the financial industry as an administrative assistant before returning to her passion and joining our team in 2021. Morgan enjoys the finer things in life, such as Starbucks and good sushi, and hanging out with her two girls, husband, and friends.
Jennifer is one of our assistants. Bio to follow.